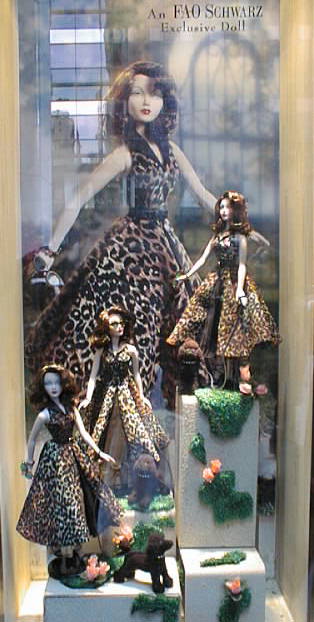 Window at FAO Schwarz. Spotted in the Park.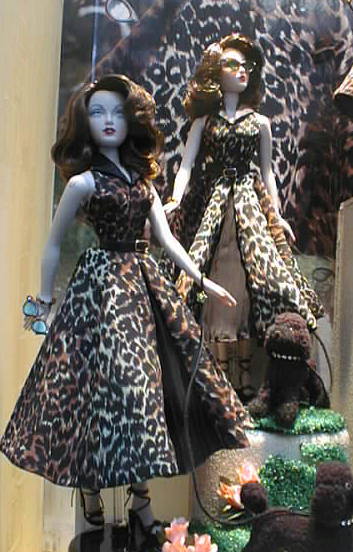 Closer picture of Spotted in the Park. You can see the black underskirt, which has little pleats in it. She also has a leopard cap (can't see it) and the dog's leash is topped with a star charm with a "G".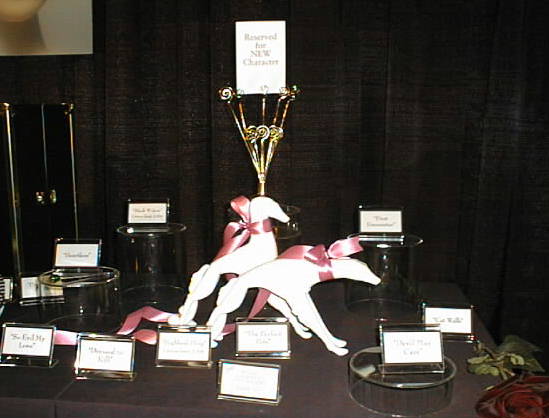 The Madra display from the Landmark event on 2/11/00. She was a no-show, but her stone greyhounds were there.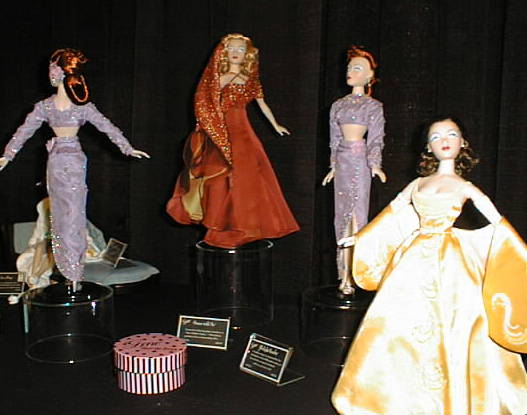 A group of Genes - all due 1st qtr 2000. Twilight Rumba is the annual doll. Exquisite beading and a terrific elaborate hairdo. She has a hair comb. In the background is "Dance with Me". It's much lighter in person - a coppery color. There are beaded accents on the skirt and the shoes have transparent copper heels. Her hair is a strawberry blonde. The yellow dress is "Kiss Me Gene". See below for more details.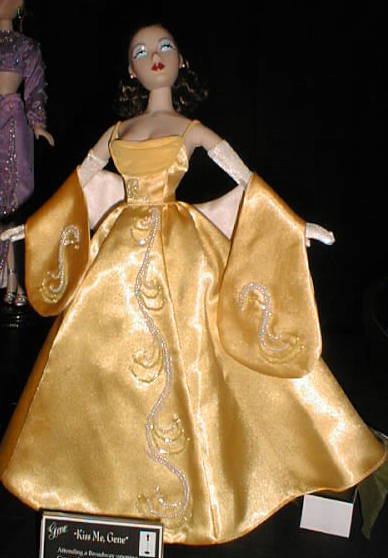 Kiss Me Gene outfit. It has beautiful pearl and beaded detail on the dress and shawl. Nice draping on bodice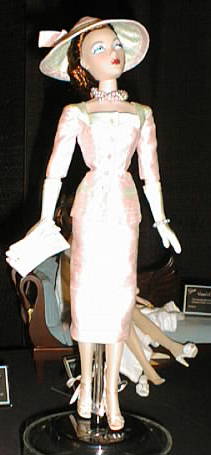 "Table for 2" outfit by Jose Ferrand. This is a pale pink suit with pale mint green accents. Twisted pink pearl necklace.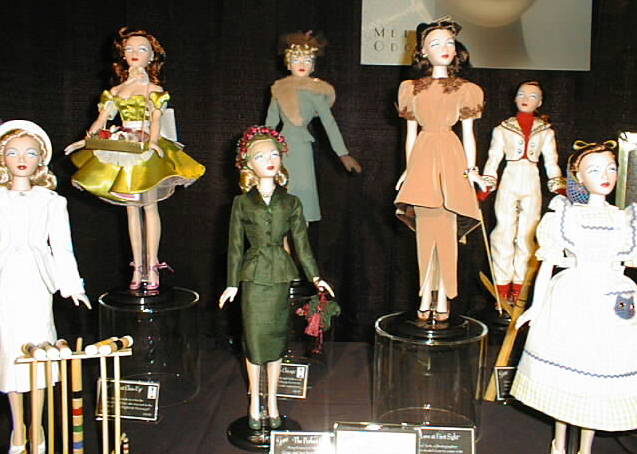 Another group of Genes. I think these are for the 4th quarter. As you can see, my camera catches much better color towards the center! The white dress on the left is "Croquet, Anyone?". It has light blue top stitching. The shoes are white and gray spectator pumps. The chartreuse outfit is "First Close-Up" by Tim Kennedy. It has a pink underslip. The green suit in front is "The Perfect Gift", a student design. Very tailored. Pumps are textured like alligator skin. Behind that is "First Stop, Chicago", an outfit that Gene would have worn between "Goodbye New York" and "Hello Hollywood Hello". That's a pretty good representation of the color. I think the publicity shots look bluer. The brown outfit is a dressed doll called "Love at First Sight". More details below. The ski outfit is "St. Moritz". More details below. On the far right is "Baking Cookies". A little too sweet for me. It's a pale yellow gingham house dress with apron.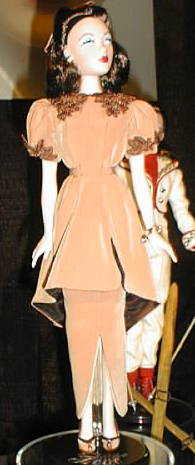 Love at First Sight - dressed doll. There is beading in the crocheted lace. The shoes are wonderful!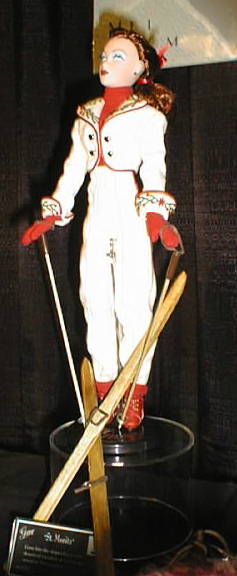 St. Moritz ski outfit. Real wooden skis. A lot of attention to detail in the boots, accessories, and the embroidery.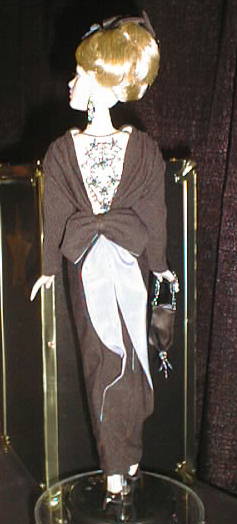 "Jazz Note" outfit. Black with steel gray lining. Great shoes - flocked velvet with back straps w/button and beads on toes. Of course, the emphasis is on the embroidery and beading on the low cut sheer back and a little inset on the front. Beaded earrings.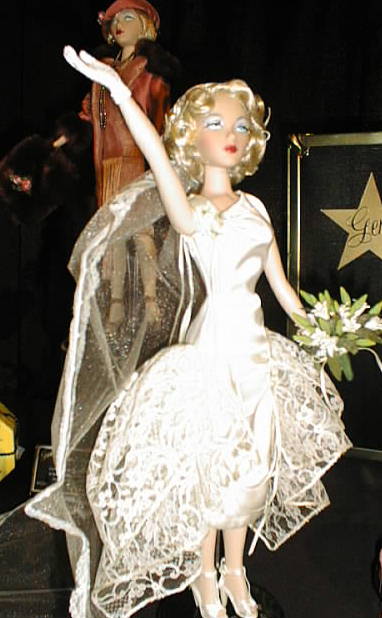 Gene in "I Do" - a dressed doll. Really lovely. Ivory satin with lace trim. I was told that this was based on a bridal dress that Joan Greene owns.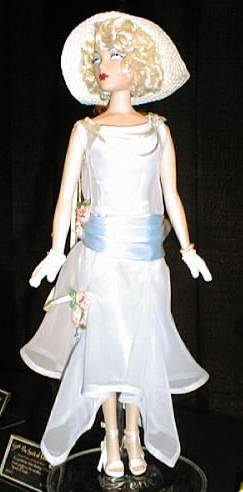 "Will You Marry Me" - costume. It's a light powder blue. Classic 20's style.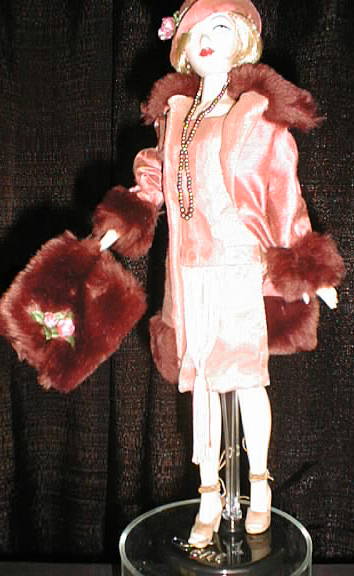 "Bon Voyage" - Gold Star Dealer Exclusive Doll. LE of 3500. Dusty rose/coral colored 20's suit. The inside of the jacket and the dress are covered in a shimmery faille and there is a fringed tassel hanging from the dropped waist. The shoes have a felt vertical strap in the back. Her hair is honey blonde and cut in a pageboy.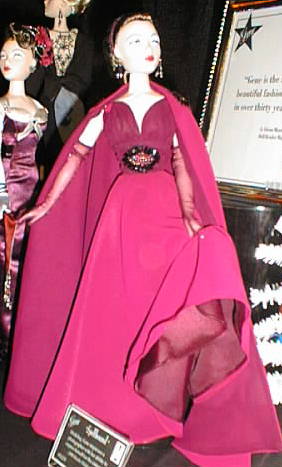 "Spellbound" Dealer Exclusive outfit (AKA: holiday outfit). This is stunning! The sheer gloves match the sheer lining of the cape. The cape is attached at the shoulders. The back of the dress is open. Black and fuchsia beading.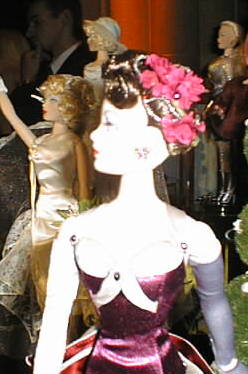 I thought I had a full length of this one! "Encore" by Lynne Day is the Retailer Exclusive doll (AKA: holiday doll). Gorgeous grape satin gown with platinum satin accents. Bow in back is plainum satin, lined in cerise. The bow has black beaded fringe on the ends. There are amethyst rhinestones on both the front and back. In the back the straps meet in the middle, almost like an "X" with a rhinestone in the center and a few rhinestone buttons down the back. She has butterfly earrings and a flowered and beaded comb in her hair. The hair style is similar to Midnight Gamble's, but has some extra curls in the front.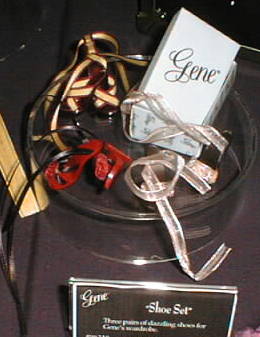 One of 2 shoe sets. Both sets have all ribbon tie shoes. This one has pink (flowered?) ribbon, maroon and yellow stripes, and red and black. The other set has black and white polka dots, turquoise with roses, and ???. Editorial note here: To me, this is the most disappointing thing in the 2000 line. I think AD missed the point of our request for shoe packs. These are all ribbon ties and the fabrics do not go with any "basic" colors. I was talking to an AD rep, who pointed to the turquoise shoes and said, "These would go with Blue Goddess." I replied, "But we already have shoes for Blue Goddess." I am afraid that these won't sell well and then AD will say, "Well, we tried shoe packs and no one wanted them." Who knows? Maybe people will design things to go with the shoes.
At this time, there are no photos of Madra (except "First Encounter"), but here are a few tidbits about the dolls and costumes for her...
First, it's Maaaadra, like a sheep baaa-ing. Pronounced like "mad", angry. Mel is very particular about this.
Only "Black Widow" and "Highland Fling" are limited editions. All others are open.
"First Encounter" - the basic Madra doll. Dress by Christine Curtis. She did this dress for her auction doll at the 1999 East Coast Gene Convention. Joan Greene bought it. Madra herself has bright carrot-top hair (like Priceless, maybe even brighter), with rolled bangs and put up in back. The hair can be taken down and it looks kind of like a wavy Red Venus length. The bangs brush out fairly long. She has green eyes, brown shadow, dark eyeliner, dark brows, and a small beauty mark over her left eye. Her fingernails are bright red and she has bendable knees and elbows. The elbow joints are done similar to the SG knee joints.
Highland Fling - Holiday outfit. Designed by Tim Kennedy. Limited to 2500. The tartan has metallic threads in it. There is black beading at the bodice and on the inside of the bow's train in the back. At the top of the green gloves, the part that is angled out is lined with the tartan fabric.
Black Widow - LE doll of 2500. Designed by Lynne Day. Stunning and going to be very hard to get :-(. The silver design on the dress is not painted -- it is stitched and has some beading! Her hair is similar to Midnight Gamble's, but in jet black. She has a beaded spider-web cap.
Heartless - Designed by Tim Kennedy. This is the green dress w/black and white polka dots. It is also the one pictured in Mel's original Madra drawing.
Pink with Envy - Designed by Bob Lange. Has gray accents. The hat is lined in gray and has a pink and gray twisted braid trim. The jacket is lined in gray and she has gray gloves, which were displayed scrunched up. Neat accessory - a portfolio with sketches of all of Madra's outfits!
Dressed to Kill - Designed by Tim Kennedy. Not a plain gold gown, like the drawing. It is gold with coppery/red mixed in.
So Evil My Love - Designed by Tim Kennedy. Black velvet skirt. Brown metallic bra. Brown gloves. The purse is really neat on this one -- a black clutch with red feather closure.
Devil May Care - Designed by Lynne Day. Bright red lingerie. The straps are a sort of soutache trim (I think that's what it's called). Sheer robe with maribou feathers. Comes with a red satin eye mask with black lace edging.