Eve 2003
Not many pictures here. They didn't want pictures taken and then gave me a CD that supposedly had pictures on it, but all it has is 2 baby dolls. They said the Eve dolls will be on their website soon.
There are no new outfits shown for 2003.
Cassie is supposed to be released this year, but possibly using Eve's body (as opposed to her smaller body). There will be a Basic Cassie in 3 hair colors in black lace lingerie and the Premiere Eve in the blue gown (see Toy Fair 2001).
Saffron Sunset AA Eve was shown again, so hopefully she will be coming out.
They had an Eve doll in a white robe with lacy lingerie ("Love in the Morning"). And a lovely golden yellow/cream formal called "Proper English". There was a racy AA Eve in a crystal web beaded shirt under a black jacket with a trumpet skirt. The blouse didn't cover what it needed to, so it needs a little reworking. It's a neat idea, though.
Basic Eve - will be available in 3 hair colors.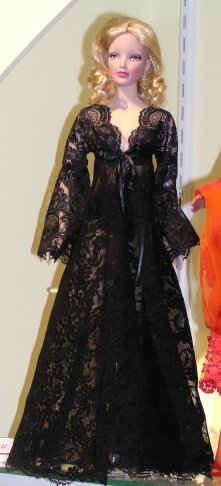 Mysterious Eve
I think this was called "Paris Nights" last year. Doll and shawl are different, but I think the dress is the same.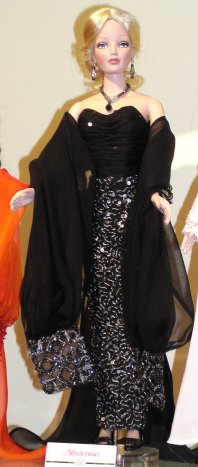 Gene® is a registered trademark of The Ashton-Drake Galleries® and was created by Mel Odom. Tyler® is a trademark of Robert Tonner. Barbie® is a trademark of Mattel. I have no affiliation with these or any other doll companies.